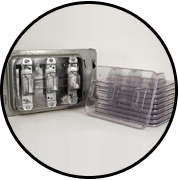 Save on Labor
and material cost with SmartGuard products

Designed To Last
Our revolutionary line of protective plastic covers are meant to be used by electricians, drywall and painting contractors, HVAC technicians, and plumbers. These covers are tough!
Each cover is meant to be reused rather than thrown away. They are made from durable thick plastic that  is designed to last.

Easy Installation
SmartGuard products are designed to be installed and removed quickly and easily. Rather than messing with time consuming tape that sticks to everything, our durable covers are designed to snap on or be screwed on.
Our see-through design makes it easier to identify what is being covered for inspections.
Our Products
SmartGuard offers more than 60 protective clear covers providing the most cost effective way to protect both commercial and residential electrical devices.