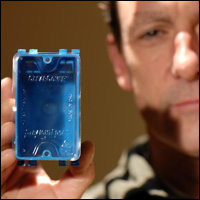 Our goal at SmartGuard™ by Clear Industries, LLC is to introduce and develop products that help electricians, drywall and painters, plumbers, and HVAC contractors be more efficient and profitable in today's market.
Today, SmartGuard™ offers more than 80 protective covers, providing the most cost-effective way to protect commercial and residential electrical devices during pre-fab, pre-wire, and construction.
Made In The USA
Clear Industries, LLC proudly manufactures our SmartGuard products in the USA. Our electrical prefab products include easy-to-use snap-in clear covers for commercial mud rings and residential plastic boxes, can light and meter base covers, cost and labor-saving pre-fab device covers, temporary breaker box covers, low voltage center, and panelboard cover kits.
Easy to use snap-fit or screw-on protection.
Have inspections with covers in place.
Keeps devices clean throughout the construction process.
Cleaner and faster trim stage.
Recyclable & Economical
UL Standard 514C Compliant
Certified ASTM Standard D1790 & D638
Made in the USA.
Floor Hole Covers
SmartGuards floor hole covers by Clear Industries, LLC are made to keep all your drains debris-free and protected during construction. During high-rise construction, drains are exposed to elements that can cause blockages that will put you behind schedule and cost you more money throughout the build. Use our watertight, OSHA-approved drain hole covers to protect against debris wreaking havoc on your job site.
Serving HVAC & Plumbing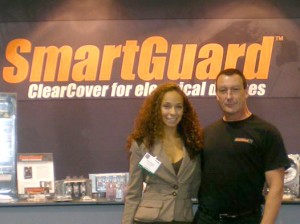 Clear Industries, LLC has expanded SmartGuard into the plumbing and HVAC protection markets with our easy-to-use product line of covers for floor drains and air ducts.
Our Innovations Continue
Clear Industries, LLC innovations continue – always looking for new applications, new ways to meet industry demands. We also make Acrylic Covers for distribution and switchboard panels.
At SmartGuard by Clear Industries, LLC, our goal is to develop and provide the highest quality products that satisfy the needs of our construction industry customers.
Custom Acrylic Products
In addition to creating the products you need to get the job done right, we can also produce custom products that you want to help with your next project. We can fabricate to meet your specific needs so you don't have to settle for something that might work. We will design and manufacture for you whether you are looking for a size that isn't available or a custom display case. Contact us today and get started with your custom acrylic product.
Find The Product You Need
Shop our vast selection of acrylic plastic, polycarbonate plastic, or PVC plastic products that will help you get through your next project. Check out our product line and help keep your construction site protected.
Drain Covers
Fan Coil Protection Covers
At Clear Industries, LLC we take pride in helping keep your job site ready for inspection while keeping devices debris-free. Contact us today to find out how we can help you get the SmartGuard products you are looking for.