SmartGuard has clear plastic covers for electrical boxes, panels, outlets, and switches. The covers are made of clear plastic and used by electricians for construction jobs on outlets, switches, breaker boxes, commercial metal boxes, mud ring boxes, panels, and more.
These covers are great for electricians because they can be used as protection during construction projects; they save time from using tape, they make the project safer, and using them makes the project go quicker. You can save the time it would take you to tape off the electrical areas and remove the tape by easily and efficiently using plastic covers to cover these areas.
---
Light Switch Covers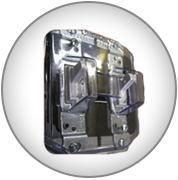 Our clear light switch covers screw onto the device to give it a tight seal to keep debris, dust, spackle, or paint out. They come in a variety of sizes from one switch to four switches. We also have a size that fits a switch and outlet combination. Just screw it on with a screwdriver or power driver, and unscrew to remove it. It's a simple and elegant solution to an annoying problem.
Complete your wiring ahead of schedule. By making sure your work is completely protected, your switches won't get messed with or cause a danger to other construction workers. You don't have to wait until the building is totally painted and construction is over to come back to finish the job.
---
Single Gang & Multi Gang Covers
Keep wiring looking new and clean by using residential box covers in 1-gang or multi-gang sizes. We carry a variety of sizes that fit most manufactured electrical boxes. They are easy to attach, and they keep unwanted sand dust and other particles from entering the box. Our covers are clear plastic that allows you to see under the cover.
Power Outlet Covers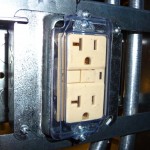 Our electrical outlet covers are excellent for covering those outlets while doing construction projects with a good tight seal to keep all unwanted debris and water from entering in. This plastic outlet cover comes in different shapes and sizes from one to four outfits in a row.
They also come in different shapes depending on if the outlet is round or square. They easily screw or snap onto the open electrical outlet and are much better protection than metal or tape outlet covers.
---
Can Light Covers
Can light covers and meter base covers snap onto the light to form a secure weather-tight seal and will help to keep paint out during a painting project. There are several different sizes available depending on the type of light. They can be easily secured into place, just insert flange side up and rotate to lock on.
Covers For Breaker Boxes & Electrical Panels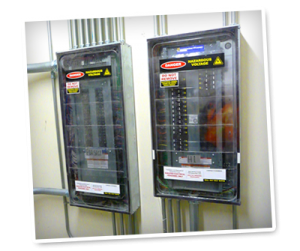 Our electrical panel covers come in different sizes to fit onto standard panels and breaker boxes. They easily screw on and off to form a tight seal around the panel. The seal is better than using tape or any other type of sticky seal because it will properly stay in place over time.
Using a clear plastic cover makes it so you can see the panel and labels, while protecting wiring from tampering and accidents.
SmartGuard's safety covers for meter bases, breaker boxes, and electrical panels satisfy OSHA requirements and meet related ANSI codes. Made from strong, durable PVC, these covers are not only puncture resistant, but have great flame retardant values as well.
---
Mud Ring Covers
Our commercial mud ring covers easily snap into the openings of standard and adjustable mud rings, great for plugtail protection and low volt wiring
Call To Place An Order
Call SmartGuard today for more information about our plastic covers for electrical devices. They are well worth the time and money you will save during construction projects.