At SmartGuard, we offer durable convenient construction hole covers for industry professionals. Our hole covers for floor openings are easy and economical to use. We save you time and money by developing the best covers in the business.
Wasteless Reusable Hole Covers
A common and necessary part of any construction site are temporary holes, which can be dangerous. To maintain the highest level of safety for crews and inspectors, and to keep debris from getting in, these holes must be covered.
Some benefits of our construction site hole covers include:
Meets OSHA Regulation
No Tape Debris and Discoloration
Reusable
Easy to Install
No Need to Cut Wood Covers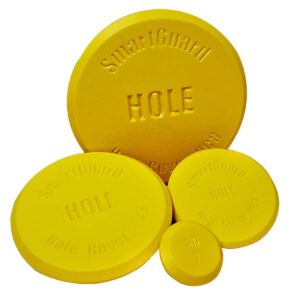 A typical method of covering a sinkhole is to stretch duct tape across the opening. The biggest drawback to this approach is cleaning up the sticky residue left when this tape is removed. This method wastes time and resources. SmartGuard covers for floor openings will save installation time, meet OSHA safety requirements, and save money.
One-Piece Sink Hole Covers
Our sinkhole covers are heavy-duty one-piece covers. Each cover will stay in place as long as it is needed. When it is time to remove the cover, just pull it up and the tape sticks to the cover, eliminating the need for extensive adhesive removal. From installation to removal, our floor hole guards are the most convenient option available to cover construction holes today.
Durable Drive Hole Covers
To accommodate construction sites where heavy vehicles and equipment may be passing over the sinkhole, a heavy-duty drive protection floor hole cover is available. Made of strong 80 PVC, this cover is very durable. It comes in safety yellow and includes two "HOLE" warning labels. This floor hole guard will also withstand the heaviest traffic. It is built to last and easily stored so it can be used over and over. This cover does away with the need for wasteful, time-consuming cut plywood covers.
Save Time Today With Hole Covers
Contact us at SmartGuard today to find out how our construction hole covers can help with your next project. Our hole covers will be invaluable in saving you time and money. but Let us help you protect your construction site environment.