Whether your construction project is commercial, industrial or residential, you can rely on SmartGuard to supply the premier floor opening covers to meet federal and state regulations. We help make your job easier, more efficient, and more cost-effective – while ensuring safety based on OSHA requirements. Our floor opening covers are made in the USA out of durable PVC plastic materials, they are recyclable and economical, and they are certified ASTM Standard D1790 and D638.
Core Drilled Hole Covers
Core drill holes are used in a variety of outdoor construction applications, including commercial concrete flooring, public or residential concrete slabs for swimming pools, as well as metal and masonry flooring. Keeping water out of core holes is essential for preserving your job site and avoiding unnecessary delays and expense.
Our core drilled hole covers are durable and built to withstand the harsh environments of job sites. They are suited for high traffic areas, and have gaskets for watertight applications. They meet federal and state regulations to ensure the safety of job-site workers, as well as keeping the core holes clean, and moisture and dust free. If you need a custom size or have special requirements, please let us know we are able to customize your order to fit your exact needs. Quantity discounts are available for large orders.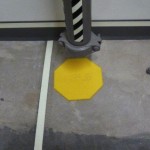 Floor Opening Covers
SmartGuard provides a variety of floor hole or opening covers to meet federal and state regulations and to protect your job site. Floor openings and holes may be defined as follows:
Floor openings in "any floor, platform, pavement, or yard that measures at least twelve inches in its smallest dimension and through which a person can fall."
Floor holes in "any floor, platform, pavement, or yard that measures at least one inch but less that twelve inches at its smallest dimension and through which materials and tools (but not people) can fall." Floor hole covers must leave no openings more than one inch wide and must be securely held in place with all hinges, handles, bolts set flush with the floor.
Floor Electrical Box Covers
SmartGuard provides a variety of clear durable plastic floor electrical box covers that are quick to install and enable you to have inspections with the covers in place. They are recyclable and are UL Standard 514C compliant. They come in many sizes and shapes to suit either commercial or residential application and may be rectangular or round in single door, two door, NPS opening, and two door duel service options. We can also fabricate a custom protective cover to your specifications. They can be suited to wood, tile or masonry flooring or carpeting, and can also have an aesthetic appeal. They are weather and waterproof while the outlet is in use, and may be lockable for security against tampering.
Save time and money on your construction projects by contacting SmartGuard today for all your protective floor cover and floor electrical box needs.